Ready…Set…
ACID WASH!  Hello from Northfield, MN, where Erin and I are washing scint vials like mad people.  We've been here since classes let out doing some wetland/prairie research and preparing for our trip to Russia.  Our research has been winding down as our preparations have wound up and we are very excited to be leaving soon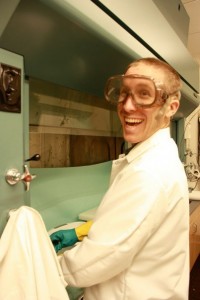 <– Clearly we need to get out of the lab more.  We are acid washing because we want to minimize, or eliminate, trace residues from previous samples that would affect the samples we will take in Russia.  The acid is VERY strong stuff  (10%  concentrated HCL solution) and removes pretty much anything leftover on the vials.
           Our other research has been based on previous projects both of us have done here at St. Olaf, and examined landscape patterns in anaerobic respiration potentials in soils.  While we are still collecting data and have a long way to go, we've already seen hints of patterns with regards to soil microbial activity via improvised BOD assays. 
We are SO EXCITED to depart!
-Sam and Erin