Polaris Project Seminar Series – July 2010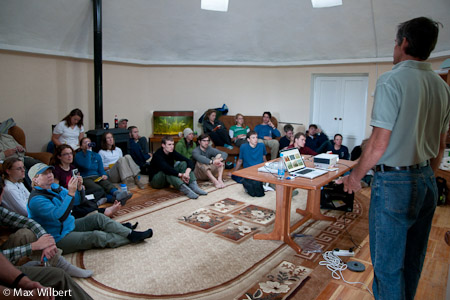 Though we often refer to this Siberian adventure as a field course, it really is more of a hands-on research experience.  Nevertheless, we have taken advantage of brief breaks in the action to present a series of research seminars and discussions.  The list below shows the seminars that have been given during our first week in Cherskiy.  The frequency of presentations will slow as students increasingly become consumed with their research projects, but already we have squeezed what might typically be an entire semester's worth of weekly seminars into a single week.  Things happen fast in the land of 24 hour sunlight!
1.  July 7.  Max Holmes, Woods Hole Research Center.  "Going with the Flow – Rivers as Integrators of Watershed Processes"
2.  July 7.  Paul Mann, Woods Hole Research Center.  "Biogeochemistry of the Kolyma River Watershed – April through June, 2010"
3.  July 8.  Bill Sobsczak, Holy Cross College.  "Carbon Cycle Tutorial"
4.  July 8.  John Schade, St. Olaf College.  "Understanding Stream Biogeochemistry through Short-Term Solute Additions"
5.  July 9.  Valentin Spektor, Melnikov Permafrost Institute.  "Introduction to Permafrost Science"
6.  July 9.  Sudeep Chandra, University of Nevada Reno.  "Coupled Lake-Stream Ecosystems"
7.  July 9. Yorien Vonk, Stockholm University.  "Terrestrial Organic Matter in the Coastal Zone of Siberia"
8.  July 10.  Scott Goetz, Woods Hole Research Center.  "Understanding Arctic System Change – Satellite Remote Sensing Approaches"
9.  July 10.  Michelle Mack, University of Florida.  "Fire in the Arctic"
10.  July 10.  Heather Alexander, University of Florida.  "Plant Adaptations to Arctic Fire"
11.  July 11.  Graduate School Considerations – Panel Discussion led by Postdocs (Paul Mann, Jorien Vonk, Heather Alexander, and Mike Loranty).
12. July 12.  Paul Mann, Woods Hole Research Center.  "Fluorometric Approaches for Understanding the Origin, Composition, and Processing of Dissolved Organic Matter"
4 Responses to "Polaris Project Seminar Series – July 2010"