Blog
During, before, and after the field course, Polaris students and faculty share their thoughts through journal entries.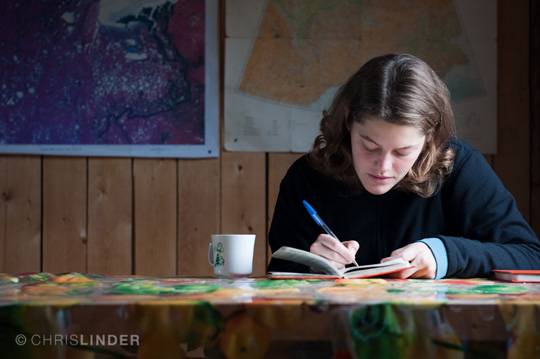 Blog Posts
The Polaris Project will once again be advancing scientific understanding of the changing Arctic, training the next generation of Arctic scientists, and engaging the public and decision makers using the example of the Arctic to captivate, educate, and inform.

This ten-year old burn site isn't a simple walk through the park. The fire has left the land a subsided obstacle course scattered with wet and dry depressions to fall in and dead trees to trip over. At the end of a field day I leave bruised, tattered, sweaty, and covered in mosquito bites.

There is something special about traveling to a part of the world that you've never seen before and discovering how much you enjoy learning about one the regions most vulnerable to climate change.

The 48 hours of work that began Sunday morning were so intense that I was grateful in retrospect for the previous calm days of preparation.

My return to Orbita feels much like the Monarch butterfly's return to its winter grounds in Mexico – intentional and purposeful.

After 40+ hours of buses, airports, and planes, we have arrived safely at the Northeast Science Station in Cherskiy, a bit bleary eyed, but happy to have successfully figured out the new coffee maker.

I have always marveled at the remarkable achievements of our students, before, during and after the summer research expedition. This year is no exception, and I take great joy in congratulating our alumni for the following accomplishments.

I couldn't believe it was me, but there I was, talking at American Chemical Society (ACS) session on Modern Analytical Approaches for the Characterization of Natural Organic Matter in the Environment.

The 2014 AGU meeting was better than I could have been expected. Our Polaris presence just keeps getting stronger and stronger every year.

The 2014 American Geophysical Union(AGU) Conference in San Francisco was a wonderful experience for the Polaris Project as well as for outreach to educators.

The night before my poster at the American Geophysical Union meeting, I barely slept. I had expected nerves and excitement, but I surprised myself with the level of anticipation I felt as I tossed and drifted in the hotel bed.

In the short term, I will need to communicate clearly at AGU when I present my poster in December. I will need to not only explain the research I did, but also answer questions from scientists who know far more about this field than I do. In some ways, it feels as though I am preparing for a debutante ball--an entrance into the scientific society that I wish to be a part of.

Streams make up only a few percent of the total surface area of a watershed, but as we have seen with lakes in ponds in Siberia, small parts of the landscape can have disproportionate impacts.

I think of Leana almost like our Russian "mother:" she always makes sure we don't head out to the field without a lunch, often puts out our favorite snacks for late night lab work, and looks out for us with a watchful eye.

In the aftermath of our symposium presentations at the Northeast Science Station, I thought about what further analyses to run on the data I collected in the tundra. I have found a few exciting initial patterns, but I have to work much harder to understand my more complicated measurements. I have a nagging question. How does knowing what I now know help?