Blog
During, before, and after the field course, Polaris students and faculty share their thoughts through journal entries.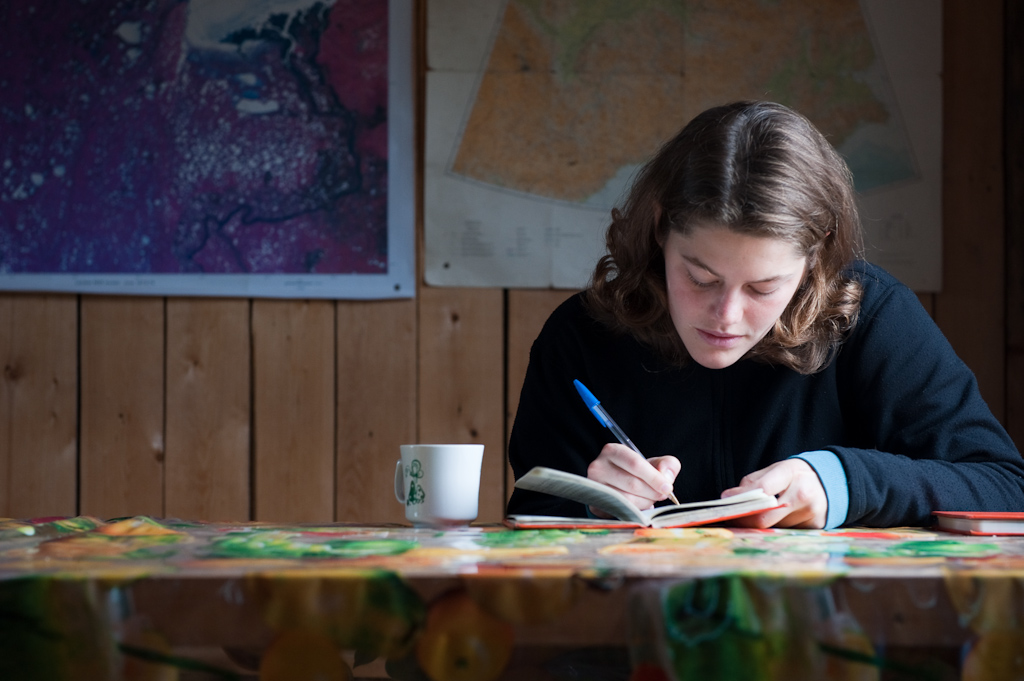 Blog Posts
Going back to an earlier blog post, last week I had the chance to visit the 9th grade environmental studies classes at Falmouth Academy to co-teach a lesson and give a presentation about my experiences with the Polaris Project.

A few weeks ago the core group members, a few of PI's, and I met over the internet and chatted about the upcoming summer. After going over logistics, basic information, and introductions, John gave us our first assignment. He asked that each of us spend some time in a natural area and think a little about what questions that place might inspire in us.…

I was recently interviewed on the weekly show ScienceCSU, broadcast  locally on 90.5 FM, KCSU.

I take great pleasure in welcoming the team of students, new and old, that will be joining the Polaris Project 2014 and traveling to the Northeast Science Station and other points on the Kolyma River this July. We are very excited to have such a talented and accomplished group, and we have very high expectations for the quality of work we will all accomplish, both individually and together as a team.…

I always enjoy informally talking to students who are interested in studying the environment. I find it very rewarding to share my enthusiasm for environmental science, and make a difference in a student's education through mentorship.

A mentor once told me that attending conferences such as AGU make for a perfect opportunity to reconnect with colleagues and establish new relationships with students and scientists.

While it was great to learn about what's happening in all of these fields, I have to admit that most of the talks that I sought out were about Arctic system science.

In a year, I went from the pre-application process to the inside circle of arctic system science, and every step managed to surprise me.

This has been a busy week for the Polaris Project family. We have hit the science community with a tidal wave of data, ideas and conversation, aimed at continuing our quest to tackle the big questions in Arctic System Science.

On learning to navigate the sessions of AGU and preparing for the ever so important poster presentation.

An update from AGU: Learning more about how our system fits into the greater global system.

Applications from Polaris Project alumni to participate in the 2014 Polaris Project Expedition are due January 1, 2014. Complete application instructions can be found here.

I've been home from Russia for a few months. Aside from a slight baggage mix-up at the Seatac airport, travel went as smoothly as I could have asked. But while it's fresh in my head, I thought I'd throw out some information for people who apply to Polaris 2014.…

The seasonal difference between doing fieldwork in Siberia in summery July and a now autumnal September is obvious in low temperatures and bug-free conditions. Plus the added bonus: dark nights and Aurora Borealis, a.k.a. the Northern Lights.

In our first four days of being here, we've sampled about 15 sites, spanning streams and rivers all the way from Duvannyi Yar to the tundra. With summer coming to a close, we've decided to take advantage of the warm and mosquito-free days that this Siberian autumn has offered us with a whirlwind of boating and sampling adventures.

We experienced this first hand as we exercised (and nearly ran out of) patience in the form of a 100-hour delay in Yakutsk – a new Polaris record!

With three red-eye flights 4 hours in front of me, the GRE 4 hours behind me, and a final pile of fruits and vegetables in front of me, I feel ready to take off for the land of moose meat, confusing weather, big bugs and epic science.

As an environmental scientist who is interested in understanding the global carbon cycle and how humans and our activities are changing it I love my job. Everyday I get to work on interesting questions that have ramifications for everyone on Earth. To answer these questions I travel to field sites all across the globe from the Congo to Alaska to the Amazon to Siberia.

When Heather Alexander tried to thank the Zimovs for hosting us at the Northeast Science Station, Sergey Zimov reprimanded her saying "We are all family, we do not say 'thank you' to family." Today I leave one family to return to another.…

When most people look at the ground they probably see lifeless brown material that they call dirt. First, dirt is not the same as soils and they should never be confused as it insults the integrity of soils. Dirt is valueless, unearthed soil.…

Reflections on moving forward after a whirlwind summer of research and adventure

I have a fascination with the interaction of animals and plants. Although the relationship may appear to be as simple as an herbivore eating a plant then digesting it, there are more complex mechanisms at play. Plants use a lot of energy to create leaves, which in turn provides food for the plant through photosynthesis, and new growth to cover more of the area around it.…

Well as forecasted, the last few days of Polaris were some hectic ones…but I can happily say…MISSION ACCOMPLISHED!

…I knew Polaris 2013 would be something new, but I had no clue what to expect and I don't think anyone could have predicted what its impacts were going to be…

Fire in tundra ecosystems is a relatively rare, though not unheard of occurrence. Here, fires burn a combination of vegetation and peat in the soil, releasing tons of carbon into the atmosphere and leading to a deepening of the seasonally thawed active layer, which may release even more carbon into the atmosphere.

Ultimately, we desire to know how carbon changes (fluxes) over time, but prior to this, we need a thorough accounting of the carbon stocks. This accounting is done through the terrestrial survey.

Since the arctic is underlain by a layer of permafrost, soil that remains frozen year-round, water does not penetrate far into the ground from the surface. However, the thawed layer of soil is getting deeper every year as a consequence of climate change, referred to as active layer deepening.…

Heidi takes a look at the differences between various vegetation types in the Y4 watershed.

What started as an faint interest in mosses and lichens resulted in a manipulative experiment set in the rolling hills of the Y4 watershed.

There is continually frozen ground (permafrost) sitting beneath the Arctic, but each summer, endless sunshine and warming air temperatures heat the soils from above. A fraction of the near surface soil thaws and refreezes every year. This is called the active layer.…

We have just returned from a breathtakingly beautiful trip to the tundra! Stay tuned for more project updates from the core team as the internet allows.
The arctic is expected to change in many ways so when I arrived in Cherskiy I wanted to design a project that simulates some of the changes scientists are predicting.…

Science is funny. Over the last few days my project was in a conceptual crisis, then I found that crisis was just what I needed to make it something great. Hopefully I learned a thing or two along the way.
My initial project idea revolved around measuring thaw depth at different points around the major Y4 channel to better understand and potentially predict changes in erosion that could occur with the deepening active layer we see across the arctic.…

Spending hours sitting on a case of water bottles in a cold dark room was not quite what I had pictured when I anticipated my month of research in Siberia, however it is where I often find myself. I have become well acquainted with the frozen dirt floors, plethora of perishable foods, and other sundry inhabitants of "the cave" (a space carved into the permafrost below one of the labs that acts as a giant natural refrigerator).…

After arriving in Chersky last Friday I have been going practically nonstop. At times it can be difficult to stop and just enjoy the scenery around you.

A few days ago, we found ourselves in the middle of the Pleistocene during a trip to Duvaniy Yar.

The Polaris group has safely returned from their trip to Duvannyi Yar. Details will follow in a few days when the Station again has an internet connection.

Ellen and Heidi begin their field experiment transplanting moss and lichen patches looking for changes in soil characteristics, carbon fluxes and microbial composition.

It has been an incredible experience to witness the Arctic environmental system that I have studied for the past couple years, from my mosquito-free classroom in Worcester, Massachusetts.

Seattle NPR listeners got a taste of Siberia with their coffee yesterday morning–Andy Bunn woke up at 4am in Cherskiy to talk with KUOW host Marcie Sillman. They were joined in the studio by Polaris Project photographer Chris Linder. Listen to the interview here….

Nice article about our upcoming trip to Siberia

The permafrost crew is together and up to no good.

Yesterday was our second full day of Arctic exploration. We made the trek to the watershed of interest for Polaris this year which includes characteristic hill slopes, a few lakes, and a deep flowing stream.

Reading the travel posts of my core group friends, both old and soon to be, I fondly remember the anticipation and excitement that grew within our group as we (slowly) approached our dramatic landing in Cherskii. Needless to say, I'm a little nostalgic.

After a marathon bout of travel, the Core Group is settling in and finally enjoying our first few days in Cherskiy.

I'm sitting at the table in the common room before breakfast. Usually I'm up before the students but today there were several sitting glumly watching a kettle boil (apparently unaware of the old axiom). It was hot last night and the new students have yet to develop the door-closing discipline that keeps bugs out of their bed rooms.…

It's amazing how easily we take simple things for granted—say, for example, a flat surface to sleep on. Last night, after 68 hours of traveling, there was nothing I wanted more than to crash in my bunk, and that is precisely what I did.

Dixie cup of espresso in hand, I am happy to report that the core team made it to the Moscow airport! The first leg of our journey is complete and the 14 core team members are now piled upon a colorful mound of baggage using up what little internet bandwidth the Moscow airport has to offer.

About four and a half months ago, a classmate of mine heard about my plans to travel to northeastern Siberia to study Arctic- environmental science. He was planning on writing a piece for a Science Writing Seminar and wished to interview me for his presentation. He was a good buddy of mine, so I was happy to help and was looking forward to the questions he had to ask.

Today I began packing my bags and couldn't help but thinking about what I should be expecting when I board the plane next week. 

Yesterday, we went west – up the western branch of the Kolyma River. After lunch, Nikita, Jorien and I packed up into the boat, and headed out to sample an area that Polaris had yet to sample.

Tomorrow, we fly to New York. Now that I've filled a small container of red pepper flakes (to avoid any future "spice hoarding," that we've been told about) I'm sitting outside, without a bug net, enjoying my last Seattle sunset.

My bags are packed, and I believe I have not violated any weight restrictions. Seems like a miracle. I am a little nervous, but a lot excited that the day of departure is close. I have been following the activities of the group currently at the Northeast Science Station with great interest, and their observations are reminding me of my affection for the place, the people, and the project.…

After a successfultrip to the Omolon river and a visit to Duvannyi Yar (see the post "mud, muddy, muddiest" by Elise) it was now time to go north. This time we drove the 60 hp boat with comfortable seats in the front and a bright new windshield.…

Today marks our two week anniversary at the Northeast Science Station. With a little more than half our trip completed, we look at the next 10 days with strategic planning to finish our experiments, projects, and sampling trips north and south along the Kolyma River.…

Polaris Project students have achieved great research successes through their publications, presentations at national meetings, and awards and fellowships. Just to highlight a few…

Yesterday we (Elise, Jorien, Sam and, Nikita) went to this amazing site called Duvanni Yar:  cliff several tens of meters high, in which the ice wedges were still visible.

Before departing for Cherskiy, the St. Olaf crew got a chance to take a quick trip to China as part of a new collaboration between St. Olaf College and Lanzhou University. The group was able to do some preliminary research in agroecology while learning about science in a cross-cultural context.

Fully packed with empty sampling containers, coolers, measuring instruments, GPS and lunch we set out in "the 40" (40 horsepower boat) to drive south on the Kolyma towards the Omolon, a large tributary about 170km from Cherskii. The Kolyma was relatively flat and the 40 took the heavy load of the 5 of us (Nikita, Claire, Sergey Zimov, me and Martin Heimann (MPI, Jena) relatively easily.…

Some may wonder what our daily activities are here in Cherskiy, Northeast Siberia. Besides the normal breakfast at 9, lunch at 2 and dinner at 9, we spend much of the day in the field, followed by preparing and filtering samples in the lab.…

It is almost there, the time to leave the Netherlands behind and go to Siberia for a month! Today I got the last research stuff: vacuum air bags, a pump, funnel, and lots of papers to be sure I know what I am going to research.

Greetings from the Alaskan tundra! The St. Olaf Crew (minus Seth, plus another Ole, Serina Robinson) has had the privilege to start our arctic research experience early at Sue Natali's field site in Healy, Alaska.

This spring Seth Spawn and I, and another St. Olaf student named Kirsten Maier, created a partnership with two environmental science high school teachers at Harding High School in St. Paul. Our objectives were to bring Arctic science into the classroom and use it as a tool to teach about the carbon cycle and climate change as well as how scientific research is conducted. In addition, we were hoping to learn how to share our research with non-scientists, create meaningful dialogue, and get high schoolers excited about the Arctic.

The core faculty (Sue, John, Paul, myself) have worked to come up with a reading list… for all the new students that will be travelling to Cherskiy in July. It's organized around the science themes we  pursue while there and reflects a mix of really big picture ideas – say restoring the mammoth tundra steppe  - to the nitty-gritty details of measuring forests and streams.

A major goal this year on the terrestrial side of things is to quantify all things carbon (and more!) for the watershed of a small stream known as Y4, located a short walk from the Northeast Science Station.

With a small but international group we will spearhead this summer's Polaris Project with the first expedition to Cherskiy (June 14 through July 9).

The main topic of our research is investigation of frozen sediments at the lower Kolyma area: its composition, genesis, physical properties and thermal state. We will do a lot of drilling, digging, sampling and a little bit of scientific research afterwards.

Congratulations to the new students who will participate in the 2013 Polaris Project field course and research experience in the Siberian Arctic!

This December several Polaris Project undergraduate students presented their research at the American Geophysical fall meeting, one of the largest gatherings of Earth scientists.

Applications for Returning Students and Graduate Students are due December 15.

Although the Polaris Project has enjoyed remarkable success in the past, each year we try new things as we strive to continuously improve. The evolution of the Polaris Project will continue in 2013.

Walking on to Western Washington University's campus five years ago, I was sure that I was going to be a business major.

After seemingly days of travel and delays, we seem to be making headway. The crew have all made Moscow safely and are now slowly saying their long goodbyes before jumping on to different flights to the US.

Over the last two days, many of us accompanied the researchers out to collect any nonpermanent sampling equipment, place long-term equipment to gather data over the next year until the Polaris Project returns, and take any final samples.

There are many easier things to do in life than to lead a group of 33 people to the Siberian Arctic for a month-long expedition. So why do I do it?

It is never far from winter here, but it is always beautiful. Although everyone is working hard to cleanup in preparation of tomorrow's departure, it is with mixed emotions that we will leave.

This morning, I went out with Seth and Dr. Karen Frey of Clark University to take the last few samples of Seth's experiment and to collect an ingenious sampling platform of Seth's creation that held bags of water at various depths for a week so the photodegradation at each level can be determined and compared.

To me as a teacher, one of the most rewarding aspects of the Polaris Program is watching mentoring relationships develop between students and researchers from the same university. Taking education out of the confines of the university and into the field, raises the level of thinking and problem solving beyond what can be accomplished in traditional settings.

Students in the Polaris Project are asked to do the impossible: travel more than half way around the world to the Siberian Arctic, design and implement a research project, and less than one month later present the results in a research symposium.

Last evening, the undergraduate and graduate students of the Polaris Project presented the results of their research at the 5th Annual Polaris Project Symposium. To do this, we transformed the dining hall of Orbita into a conference center. Each of these 15 students presented their research for 10 minutes, followed by 5 minutes of questions and answers.

Peter and Brandi Jo tell me that in order to understand the value of their research it is important to know that the excellent insulating properties of the thick moss layers have a large impact on how deeply the permafrost soils thaw in the summer months, and consequently, how much stored carbon may be released into the environment.

In ecology, a fundamental objective is taking our measurements, observations, and analyses from a manageable sampling and scaling these up to assess their implications on a large landscape. While remote sensing and modeling are a key part of ecological research, having reliable data from the field to 'ground truth' these techniques is equally crucial.

For our final large group adventure, we headed north at about 10 p.m. on Wednesday, June 18, our Barge being pushed by a tugboat in a similar fashion to our trip to Duvannyi Yar. This time, our goal was to visit and take samples from the tundra ecosystem and up to the mouth of the Kolyma River to the Arctic Ocean.

The university students of the Polaris Project each work on independent projects. Periodically, I will share the stories of these remarkable young people… Featuring Lindsey Parkinson and Dylan Broderick.

As the cold weather blew in, we stopped drilling for a couple of days and headed back to the Northeast Science Station, I pause to reflect at the tough life of the workers in the wilderness that surrounds Pleistocene Park.

The interesting part of fieldwork is that, as we begin to collecting the data, we have also collected some interesting stories.

What was it like to live in the time of the mammoths? How was the environment different then? What animals lived then, and what was their ecosystem like?

As scientists, sometimes we need a bigger picture to understand what is happening.

Spending every waking (and sleeping) moment with like-minded ecologists really allows us students to come into our own as scientific beings.

My project is the first steps of the biodiversity survey. I find, picture, and identify as many of the flora and fauna in the region as I can then put the pictures and names together to create a field guide to Cherskiy. It would be impossible to categorize all life here in three weeks so I am focusing on the plants. As such the distillation of my project is flower picking.

Mosses are an extremely important player when it comes to insulating the permafrost. With the changing fire regimes and higher densities of deciduous larch trees, what happens to the moss?

We've entered crunch time, with students and PIs working feverishly to collect data as the end of our time in Siberia quickly approaches.

Ludda's research is looking at the rate that the microbes in the soil respond after these different types of burns by looking at enzyme activity in the soil.

The university students of the Polaris Project each work on independent research. Periodically, I will share the stories of these remarkable young people. Vasily Lebedev – Graduate Student at Moscow State University

Creative Contraptions… What are these two devices used for?

Last night after our 9:00 p.m. dinner, we all piled onto the barge hooked up to a tug boat and headed up the Kolyma River. At 1:30 p.m. just after lunch today, we arrived at a magical place – Duvannyi Yar.

Mt. Rodinka, a small mountain (351 m) rises from essentially sea level east of the Northeast Science Station. It sits in front of a many higher and larger mountains in the distance. Rodinka, I have been told means either "Birthmark" or "Little Mother Earth" in Russian.

The barge casted off after dinner on the 11th, around 10:30 PM. By 1PM the next day the hills began to sparkle with exposed permafrost. Everyone was excited for our fieldtrip. New places to sample for some of us, new adventures for all of us.

It's been a week of rapid change here in Cherskiy. The "inter-niet" has switched to "inter-da", tropical heat has replaced arctic snow and, for the first time ever, facial hair has appeared on the right side of my face.

Over the last few days, I have had the opportunity to accompany Dr. Valentin Spektor of the Melnikov Permafrost Institute in Yakutsk, Russia, and Dr. Alexander (Sasha) Kholodov of the University of Alaska at Fairbanks as they use their drilling equipment to bore into the ground and collect permafrost core samples.

What do you expect when you are going to Siberia to work with world-class scientists? I had high expectations just like my fellow students. But what I have experienced on this journey thus far is far beyond my wildest dreams.

As part of my NSF-Funded Post-Doctoral Fellowship, I have spent the last year talking with colleagues and friends to try and determine the best approach for conducting plot-level experimental burns in the larch forests of far northeastern Siberia. Today, all that planning and strategizing finally paid off.

"Nyet" is the Russian word for "No" or "None." Over the last few days, we have had only "inter-nyet," – although not technically a Russian or English word, its meaning is clear. Thus, we have been out of touch in terms of posting blogs or looking at email.

In these first five days we have managed to collect almost 1,000 lbs of twigs, branches, and logs. Then we dried all of them. Then we weighed all of them. Then we prepared our plots, which included clearing all of the plants on and around them, fluffing the moss so it dries, and taking pre-burn measurements. Finally, today, we burned.

Time is flying by in Cherskiy! I'm making progress on my project, but will I finish in time?

Burn day. Our anticipation has been fueled (literally) by expectations, curiosities, and uncertainties of conducting experimental burns here at the Northeast Science Station.

I'm running an experiment which seeps the organic carbon from different vegetation to determine (in so many words) bacteria's ability to consume that organic material (the lability of the carbon).

I thought for sure that I would lose a few pounds roughing it in extreme northern Siberia. You know – competing with bears for available game or fishing by hand in the rivers… I was wrong. Very, very wrong!

This morning, Dr. Heather Alexander's team conducted their first experimental burns to test the effect of burn severity on the regrowth of the larch forests and on the consequent implications on permafrost soils.

You may ask yourself, "What is moss fluffing?" Today, Dr. Heather Alexander of the University of Texas at Brownsville, may have created the newest term in field science.

They tried to prepare us. Bug shirts and bug spray were on the packing list as necessary items. The Polaris website has pictures and video of the swarming masses. But no matter what someone tells you, it is not the same as being out in it.

Today we took the inflatable boat out on Such'ye Lake, which is about a kilometer from the station. First part of the day was spent taking optical measurements using the BIC, then taking various readings with the CTD and YSI such as temperature, depth, conductivity, pressure, pH, and dissolved oxygen.

So what happens if you fill a plastic bottle with air on the 14,265-foot summit of a Colorado mountain and bring it down to sea level in Cherskiy, Siberia? This is the experiment proposed by my students in Colorado that I wrote about in my June 19th journal on the PolarTREC site above.

Today, I had the privilege of working with Dr. Heather Alexander of the University of Texas at Brownsville and her team, setting up 16 plots for an experimental burn to determine how the severity of fire in the Siberian boreal ecosystem affects the permafrost soils and the germination of larch trees after a fire.

Photographer (Polaris Project 2009 & 2010 field seasons) Chris Linder was awarded two honorable mentions in the 2012 International Conservation Photography Awards.

Since we arrived a day later than expected, we needed to work especially hard to make up for lost time at our new home near Cherskiy. This morning, a combination of cold and snow could not hamper the work needing to be done. A favorite saying of my family in the Colorado high country definitely applied to our efforts today.

Now it feels like Siberia. With our arrival in Chiersky, we see things start to unfold and project ideas becoming planned activities. The realization of where you are in the world takes a while to set in.

Florida to North Carolina to New York to Moscow. Moscow to Yakutsk…stuck in Yakutsk…and finally to Cherskiy! Moscow was very interesting. The architecture there is unbelievably unique. Red square is an amazingly alive and vibrant place.

Six days, four flights, two airport meat puffs, and a multiple night layover later we have arrived in Cherskiy.

After nearly a week of grueling travel, we finally arrived in Cherskiy!

I left Denver, Colorado at 12:56 a.m. on Tuesday, June 26th and arrived in Cherskiy at 1:00 p.m. on Sunday, July 1, 2012. Below are a few of my favorite highlights of the trip with the Polaris Project that didn't make previous journals.

Although we had hoped to be in Cherskiy already, our unexpected extra day in Yakutsk was remarkable. Because our Polaris Project group was quite numerous (over 30), we were split into two different hotels.

We should have arrived in Cherskiy by now, but due to some back ups and delays at the Yakutsk airport we were unable to complete the last leg of our journey as scheduled.

In the airport in Yakutsk, Russia today, our Polaris Project Expedition leader, Dr. Max Holmes, gathered everyone around him and started his announcement pointing out that few scientists do research in the Siberian Arctic because it is difficult to even get to the Siberian Arctic.

After speed-dating with the PIs, everyone is more ready than ever to get to Cherskiy and start working on their projects.

With the PIs lined up against one wall, the students rotated through the scientific gauntlet and tried to explain what our interests were and listen to the variety of projects being undertook once we arrived in Cherskiy.

The students and researchers of the Polaris Project made our way from New York to Moscow yesterday. Today, we leave Moscow and fly six time zones overnight to reach Yakutsk. It is an exciting experience to meet enthusiastic scientists and embark on an adventure together.

The plan is to meet up with the rest of the group flying in from other places in Europe and do some quick sightseeing. The students will begin meeting in earnest with the scientists and planning out their projects.

Many of the Polaris members from the United States are converging on JFK right now. A day of waiting (the first of several such days) before the flight to Moscow.…

2012 flights to JFK

After months of waiting and planning in a few hours we will set off on a three day journey to Cherskiy, East Siberia. The packing process has been long and thought out.

The time has finally come for our departure. Peter Ganzlin, Sue Natali, and I have already left Gainesville, FL and are currently sitting in Charlotte, NC's aiport, waiting to fly to JFK in NY.

If it weren't for all this equipment I'm pretty sure I could fit everything into my carry on. But that would make the trip much less interesting.
…

Now, the day is here where we journey around most of the globe and across the world's largest country to experience arctic Siberia. I can't wait to meet everyone involved in the POLARIS Project and hear all about the fascinating research that is taking place in this unique locale.

After many weeks of having The Beatles' "Back in the USSR" put a bigger smile on my face than usual, the day is finally here to depart on my Russian adventure!

In about 12 hours from now I'll be boarding a plane that will take me to NY, then to Moscow, off to Yakutsk, and finally landing in Cherskiy on Friday. Looking at a globe, it seems like I'll transit over 75% of the planet, which I have to admit is kind of cool in its own right.

While our counterparts in the eastern US begin the trek tomorrow afternoon, those of us on the west coast start tonight.

I cannot believe we leave tomorrow! Hopefully I'm as ready as I can be…

I'm glad that I'll only have 3 days of gruelsome travelling.. coming from Middle-Europe.

The grueling 4-day journey to our destination in the Siberian Arctic begins tomorrow. This year we have 33 participants, almost certainly the largest international expedition to the Siberian Arctic ever.

Many congratulations to 2011 student Sarah Ludda Ludwig. Ludda won one of this year's prestigious Goldwater scholarships.

Claire Griffin (Polaris 2009) has just been awarded a prestigious NSF Graduate Research Fellowship to support her PhD research on organic matter in large arctic rivers.

The 2012 deadline has passed and we received applications for this year's field course from dozens of different universities. The folks that are going to review these have their work cut out for them – there are some very highly qualified students with compelling stories.…

Though the Northeast Science Station was founded over 2 decades ago, in recent years the laboratory facilities at the Station have been greatly upgraded.

This multimedia video shows just how life-changing the Polaris Project can be.

After five hard years of work, Science on Ice: Four Polar Expeditions, is now in print. Before I began documenting the Polaris Project, I was the principal investigator of my own National Science Foundation grant called Live from the Poles. Our mission was to educate the public about how polar science is actually done.

The Polaris Project had an information and recruitment booth at the recent SACNAS conference in San Jose, California. We are eager to see the applications for Polaris 2012 that are generated from this exposure.

In January 2008, Claire Griffin… (a sophomore at Clark University) applied for the inaugural Polaris Project expedition.  She was accepted.  Unfortunately, one month before leaving, Claire fell off a horse and broke her arm, ending her chance to be part of the 2008 field course. 

We've come as strangers from all points of the compass to live in very close quarters, on a barge in this case.  We've grown not merely to accommodate each other's foibles and eccentricities, but to enjoy them as an aspect of our common purpose and shared experience.  We've become friends. And then, abruptly, we part.

We wait in Domodedovo, one of Moscow's many airports, after traveling 8 time zones in three days.

The tundra is beautiful in its sheer strangeness, an exotic environment, and vaguely haunting for that. Here summer seems not a season, but an exception.

You see tree rings through a microscope (complete with cross hairs for measuring) whenever you go to sleep.

When you get right down to it, scientists, no matter their particular professional concentration, seek to understand how the natural world works.

In the bowl of this Siberian thermokarst lake, surrounded by rich green of moss shrubs and boreal forest, methane rises far more often than fish.

Between stints of tromping through the undergrowth trailing one end of a 30 meter tape measure to help Ludda measure the slope of her hill, I was able to just sit down and marvel at the larch forest, the mountains in the distance and the tiny gurgling stream.

The syringes of water I collect end up in a living room converted to lab, complete with giant batteries resting on an upright piano and portraits watching over the Victorianesque-furniture and gas chromatograph.

"Four times more carbon is contained in permafrost," Max said this morning, "than in the entire biomass in the rest of the world."

It was a normal day, but as soon as breakfast was finished, the first raindrops started to fall.

We are analyzing data and religiously gluing, sanding, counting, and measuring tree rings to be assessed for relationships between tree growth rates over time as well as productivity.

Our goal is to figure out how much carbon is stored above and below ground in this area.

Dissolved organic carbon samples collected last year by Polaris Project scientists from here at the bottom of the cliff were radiocarbon dated at 30,000 years old. We immediately began finding the bones of big animals that died sometime around then.

"Don't go wandering off by yourself," Max warned. "Stay with your group." There are a lot of ways to get hurt at Duvannyi Yar.

The water was full of organic material and I couldn't see my own hand when I held it approximately 0.5 meters below the surface.

Everything started in a study session of my friend's apartment in Guaynabo, Puerto Rico.

Have you ever felt that you are probably the first from your country to reach a place?

Cherskiy, the Northeast Science Station, and the barge through the lens of Becky Tachihara.

Every day after breakfast, group disperses to various field locations and labs where they will work on their projects. We have people studying lakes, streams, trees, soil and everything in between, and I have been trying to follow a different group to a different place every day so I can get a good feel for what everyone has going on.

This place, with its foundation of Pleistocene (the time period before the last ice age, around 40,000 years ago) permafrost, is a science playground.

Stumbling my way through waist high thickets that give in to pits carved out by the stream, this is by far the most difficult hiking that I have ever done…

Slapping, clapping, waving, scratching—these are common, if not constant signals of life in Siberia.

I spent the last two days in the field with Allison, Sam, Andy, Becky, and Eli collecting samples and measurements for the terrestrial survey.

Just a couple of meters beneath this visible surface the ground is frozen solid down some 1,400 meters. This is permafrost.

We've traveled better than halfway around the globe, through fifteen time zones, twenty hours in the air, nearly as many waiting in airports, and now we're here, delighted, if disoriented.

While we were processing a water sample that was taken earlier this morning from the Kolyma River, we talked an interesting mix of broken English, Russian and Swedish/Norwegian.

We celebrated the fourth of July with a toast to our Russian hosts and all have a solid night of sleep on the barge.

Privyet friends of the Polaris Project! I'm sure you'll all be pleased to hear we're alive and well and only moderately exhausted.

What will this year be like? If I had to believe the weatheronline prediction it will be 15 degrees (Celsius!) and rain for the first few days we're there.

In less than 2 days 19 of us will converge on Dulles Airport in DC, and then fly together to Moscow where will link up with the other three participants (two from Russia and one from Switzerland).

I got into the car, turned the key, and the first words that came out of the radio speaker were "Pleistocene Park."

"I didn't think anyone went to Siberia willingly," a friend replied when I told him I was going there with the Polaris Project.

Max Wilbert, a recent graduate from Western Washington University and a participant in the 2010 Polaris Project field course, has just won a national competition for his article "Siberian Summer" about his Polaris Project experience.

Erin Seybold, a senior at St. Olaf College and a participant in the 2009 and 2010 Polaris Project field courses, has been awarded a Fulbright Fellowship to study in Tromso, Norway over the coming year.

Heather Alexander, one of the five 2010 Polaris Project "Affiliates" (see Team page), has been awarded a prestigious NSF Postdoctoral Fellowship to continue her work on the boreal forest in the Kolyma River watershed.

Fourteen undergraduate students have been selected to participate in the summer 2011 Polaris Project field course / research experience in the Siberian Arctic.  Though we had to decline many outstanding applicants, we are thrilled that all of the students we extended offers to have accepted our invitations. …

While the US has seen an unusually cold winter so far (with several large snowstorms battering New England as well as sweeping across the nation), you may wonder whether the Arctic is also experiencing anomalously cold temperatures. Here in Worcester, Massachusetts, we happen to be digging out of 48.4 inches of snow received in January alone (the second snowiest January on record…), but I can't help wonder how our northern neighbors are faring.

Undergraduate students interested in participating in the Polaris Project Siberian field course should complete their application by February 20, 2011. To be eligible to apply, you must be an undergraduate student, currently in your junior or sophomore year (in exceptional cases a senior may be accepted). …


After pointless and senseless delay we have updated the photos page… with a subset of the 2010 photos by Max and Chris.

Max Holmes was recently interviewed about the Polaris Project for the 30-minute NPR radio show "The Point".  The interview was broadcast on Tuesday, September 14, on WCAI.  It has now been archived online and can be heard by clicking here….

Each December in San Francisco, the American Geophysical Union (AGU) holds the world's largest scientific conference that focuses on Earth sciences.  This year, Polaris Project participants submitted 17 abstracts for presentations at AGU based on their research as part of the Polaris Project. …

Ambarchik was a Soviet prison camp (gulag) beginning in the 1930′s. This place has a sad feeling to it, perched on the edge of the world, the Arctic Ocean to one side and the treeless tundra to the other. It is now the site of a new tragedy: as the climate warms, storms strengthen, ecosystems shift, and weather patterns change.…

Today is the Fab Four's final day in Cherskiy – only one more of Valentina's delicious lunches and we're on our way to the airport.  Leaving is very bittersweet; while we are excited by the thought of seeing friends and family in a few short days, we are very sad to be leaving this place that we have grown to love over the past few months.…

In the wake of the heat wave here in Russia, as well as the several other bouts of extreme weather around the globe this year (floods in the US and Pakistan, heat waves in Africa, eastern Asia, and eastern US), it is looking more and more like we are seeing the effects of anthropogenic (man-made) climate change.…

Although we are all working very hard to wrap up our summer field projects, we have also managed to make time to appreciate the place and people we have become so close with this summer. Orbita has become nothing short of a home for the four of us, encompassing where we do lab work and where we get to hang out after a long days work.…

After collecting some pretty interesting data from the tundra, I decided it was time to share a bit about my project. As part of the stream team, my project is aimed at answering a simple question: are small arctic streams sources of CO2 to the atmosphere?…

We successfully made the tundra trip in one day and arrived home safe and sound late last night. Now on to a full day of lab work to process our samples!…

The fantastic four are just about to board Petnubbin' (aka Speedy) for a day trip to the tundra. We intend to sample streams and rivers for all of our projects. The weather is ideal for a trip north: cold, windy, and rainy.…

Today is another chilly, blustery day in Cherskiy and as I look wistfully out windows of the lab (the NUT prison) the clouds are scuttling madly across the sky. Luckily though, it is finally sunny after days of cloudy weather which is a significant improvement.…

For many of us, the field portion of the Polaris Project was just the beginning. While the scientists have haystacks of data to sift through, I have a stack of 20,000 photos waiting to individually perused, ranked, tagged, and grouped – a task for days and days.…

Unfortunately not all of the PIs were able to travel to Cherskiy for the Polaris Project 2010, myself included. I greatly missed being at the Northeast Science Station and being in the field with such a fantastic group of scientists and students.…

After a 30+ hour daze of airplanes and airports, then having to turn on the radio to block out the eery silence of sleeping in the desert without 19 other people and the rustling of the Barge, I'm sitting here in my parents house in Reno, Nevada.…

Back home safe and sound, and sitting on my patio. The garden has grown huge in my absence, the weeds aren't totally awful, and my French press, coffee grinder and good coffee beans have been waiting patiently for my arrival. Life is pretty good.…

We had a very productive morning yesterday listening to student presentations regarding their research projects and their learning experiences from this trip. It has only been 30 days since the group has been together but a lot of individual and self transformation has occurred during this period.…

Yesterday I turned twenty while we were staying here in Moscow. I never imagined that I would spend one of my birthdays in Moscow with such a great group of people. We all had presentations yesterday morning but after that it was time for relaxation and celebration.…

Most of the students and PIs are in Moscow, preparing to board their flight home today. Blaize, Erin, Travis and I are in Cherskiy, continuing our research and finishing up our projects.
During my remaining time here, I'm continuing my soil BOD experiments and conducting nutrient limitation experiments.…

…
The vivacious vestige of the Polaris Project (Blaize, Erin, JoAnn, and Travis), through which the remainder of the group must live vicariously, woke up to a vicious odor of smoke and an eerie unplaceable source of sickly yellow light yesterday morning.

Today was a long, sad day. We spent the morning packing, cleaning and swimming in the Panteleikha one last time. Right after lunch we loaded up the bus and said good-bye to the Station. It was hard leaving behind the four returning students and all the people at the Northeast Science Station that made our stay so fantastic.…

Hi everyone! As of late, those of us working with soil have been busy with making soil extracts. Sam's earlier post gives an indication as to our all-hours filtering schedule, so I'll write more on what we're doing and why we're doing it.…

Well, maybe not, but it was remarkable nevertheless to see many of the Polaris Project students swimming in the Arctic Ocean a few days ago.
…
For most of the year this part of the ocean is covered in sea ice. The image below, courtesy of the National Snow and Ice Data Center in Boulder, Colorado, shows the Arctic Ocean's sea ice extent as of July 15, 2010. 

Good evening/morning!  While the rest of the group is sleeping, Elliott, Emily and myself are on a vacuum-filtering marathon in the soils lab.  It's about 1:30, morale is high, and we hope to be done by breakfast later this morning.  Late nights in the lab are special time for all those involved and gives us an opportunity to see another face of this place and of the people we are here with.  …

We left Saturday morning on what we imagined would be a long, hard day trip to the Arctic Ocean and tundra. We ended up weathering a storm in a fishing shack, relying on Nikita and Sergei's resourcefulness and our positive attitudes. 

The Northeast Science station in Cherskiy is one of the most remote places I have ever been, yet we have internet, showers, washing machines, a sauna and …. good food! All the credits for this last, most crucial survival need should be given to Valentina, our charming cook that creates lovely meals, salads and impressive birthday cakes in our little kitchen on the old barge in the Pantaleikha river.…

The Team made it back to Cherskiy late last night after a magnificent 36 hour trip to the Arctic Ocean and tundra.  Weather extended the trip beyond our planned ~16 hours, which only added to the spectacular nature of the expedition. …

Hey all, Andy here – stateside. Max Holmes made a sat phone call back to the states. The group is delayed north of Cherskiy by bad weather. They have to wait out the bad weather before making the return trip back from the estuary.…

If you have been a regular reader of the blog, you last heard from the bug team as we were setting out our not-so-high-tech bug trap made out of birch branches and twine in an attempt to catch amphipods. Unfortunately, that venture did not prove to be as successful as we hoped and netted only a handful of our targets.…

Not until now, slouched on the bench of the barge trying to keep my eyes open and fingers typing, did I fully appreciate the work that goes into getting good data. The brief account in paper's methods sections don't do it justice.…

Tomorrow morning we pile into three small boats and head north to the tundra and hopefully the coastal Arctic Ocean.  The trip north has been one of the highlights of each of the first two years of the Polaris Project.  We expect that the same will be true this year. …

Hello everyone! Its our first update in a while, as the internet has been intermittent and the team has just returned from a two day trip upriver. We went to a place called Duvannyi Yar, where Pleistocene-era soils are eroding at a massive rate as the underlying permafrost thaws and massive wedges of ice melt.…

The three overarching objectives of the Polaris Project are to 1) train the next generation of arctic researchers, 2) advance scientific understanding of the Arctic, and 3) expand public awareness of the feedbacks between the Arctic and the global climate system. …

It has been nearly one week since our PI's Scott Goetz and Michelle Mack left Cherskiy, relegating the 'Affiliated Five' to 'The Gang of Three'. Since then Heather, Kami, and I have been working hard to accomplish all the things we need to before leaving in another week.…

As Max Holmes says, the atmosphere here at the station is a balance between student independence in projects and guidance by the PIs. He was telling me that as a group they want to give us as much guidance and advice as they can but at the same time it's a necessary part of the process to get completely confused, distracted, and lost when it comes to our individual projects till inspiration hits and something beautiful happens.…

This has been an event filled week. If you have been keeping up with the blog you might have realized a few things regarding the scientific aspects of the project:
a) this part of the world has a lot of frozen carbon from the Pleistocene era stored underground called Yedoma that has the potential to thaw as the earth warms,
b) the thawing of this carbon and transformation of this carbon into gases (e.g.…

Already half way into our trip and we have sampled last summer's locations (in yellow) and 6 new locations (in red)! The new samples include 3 flood plain streams and 3 samples up north. The stream team has been spending long hours conducting nutrient additions on the flood plain streams.…

Below is a series of snapshots of all Polaris students taken over the past few days.  Maybe a bit rough around the edges after almost 2 weeks in Siberia, but all are well and thoroughly engaged in their projects.

…

Living and working on a science station can be a bit like living and working in a bubble. Sure, each time you look out the window you're reminded of the incredible beauty of Siberia but it's easy to forget that Russia is more than just amazing views.…

…
Yesterday, Nikita, Blaize and I journeyed to the Omalon in support of two projects here in Siberia (See Max's blog below).  The river survey group have already introduced themselves, but Nikita and my project is a more recent development and has not yet been described here.

…
Everyone has days where one amazing thing after another occurs. But when you're conducting research in the Siberian Arctic, amazing events take on a whole new meaning. Take, for example, my past 24 hours.
It began after last night's dinner, when Sergi Zimov hauled a giant mammoth tusk into the barge, let it crash onto the floor, and encouraged us to examine it.

…
Though we often refer to this Siberian adventure as a field course, it really is more of a hands-on research experience.  Nevertheless, we have taken advantage of brief breaks in the action to present a series of research seminars and discussions. 

Nikita Zimov and Max Holmes – sampling the Arctic Ocean off the mouth of the Kolyma River.

The Polaris Project is interested in the transport and transformation of carbon and nutrients as they flow with water from uplands to the Arctic Ocean. 

Recently we went on a field trip to Rodinka the large hill/small mountain that dominates our eastern view. Wearing our bug shirts, and covered in DEET, we rode on a bus blasting Russian techno hits. It could have been a party bus, if it hadn't been full of mosquitoes and gnats.…

When you're a kid, that question is an exciting and fun question to answer; the possibilities are endless. As we age, this inquiry seems to get more difficult to answer; until you're a college student and the question, "What are you doing after college?" prompts some serious anxiety.…

It is very nice to be back at the North East Science Station. After almost a week it is amazing how much our team of students and mentors from the US, Russia, Netherlands, and Britain have accomplished in this short of time.…

After days of contemplating the meaning and the best aspect of our project we have come to name our team BOATS (Binding ocean atmosphere terrestrial systems). We are focusing on surveying the larger bodies of water to understand the carbon flux in the Kolyma watershed, which carries terrestrial carbon from land to marine stores, altering it and releasing some to the atmosphere along the way.…

When the sun does not set, keeping track of the days becomes problematic. They blend together – yesterday's sun and sweat fading into today's rain and thick clouds. Sweet smells are in the air, fresh and crisp after the rain. Flowers are blooming across the landscape.…

Well, team BA has officially converted to team BARGE (Bacteria Analysis Research Group Extraordinaire)! Yesterday was an exciting day for us as we got a mini experiment started with some sample water off of the barge. Right now we're mainly testing the BOD (Biological Oxygen Demand) probe and making sure we know how to use it correctly before we start in on our larger projects.…

This is Elliot and Emily checking in. We are part of the "bug team" studying the diversity of benthic invertebrates (bugs that live of the bottom of lakes and streams) and their role in carbon and nutrient processing. Our project has two main parts.…

Research in the Arctic is tough – more often accomplished with duct tape than high tech instruments, which are typically sequestered in laboratories far removed from the Arctic.
…
One of the challenges for foreign researchers working in Russia is that sample export is very difficult and expensive. 

Hello everyone! In the past 48 hours members of the Polaris Project have coalesced into different research teams. Sam and I are the terrestrial team, determined to quantify how different watershed characteristics affect the contribution of nutrients to thermokarst lakes.
Watersheds influence the water quality of aquatic ecosystems.…

Today the "affiliated five" group (Scott, Michelle, Mike, Heather & Kami) went on a nearly 300km journey by boat with Captain Zimov. We headed south on the Kolyma, and then up the little Anui tributary and back down the big Anui before heading home again to the Science Station.…

Even though we've only been here for a few days, our projects are already underway. The Stream Team (Erin, Kate, and Travis) is continuing work from last summer's progress towards understanding nutrient and carbon processing in small streams in the area.…

Today has been a day of all different types of excitement for Team 005 who'll be working will Bill Sobczak (Cassandra, Melissa and myself). After some really productive time spent with the PIs yesterday, everyone has begun closing in on their project for the coming weeks.…

10 reasons you know you are living in an Arctic science station
1)      Instead of band posters decorating the walls, there is satellite imagery of the area.
…
2)      The fish tank is filled with species caught from the river we're living on.

Five days of traveling, 27+ hours on five planes, and a night with no nighttime finds us on day two in Cherskii!
…
Going into the project I anticipated the amazing research and field experience that I would gain, and trust me I have in no way been disappointed, but already its turned out to be so much more.

Four flights, five days, and sixteen time zones later, we have finally arrived at our barge home. Although it was fun to explore Yakutsk and Moscow, I am relieved that I won't have to pack again for twenty days. The barge is comfortably compact and provides stunning views of the Panteleikha and the mountain beyond.…

…As other people have posted, a defining fact of our lives right now is that my computer clock says 6:45 AM and my wristwatch says 9:47 PM (who even knows where those extra two minutes went). Everything has been sort of surreal due to countless hours of flying and sleep deprivation sandwiched around brief moments of exploring two very different parts of Russia.

We've just landed in Yakutsk and have made it through fourteen of the sixteen time zones that we'll be crossing. Even with all of the jet lag and time spent waiting in the airport, the trip has already amazed me. I should explain that, in addition to majoring in Biology at Holy Cross, I've also spent the last three years studying Russian.…

Our first full day in Russia! We arrived last night after 15 hours on planes, first from Seattle to Washington DC, then on to Moscow. The road that led us away from the airport gave us our first taste of the Russian countryside.…

Happy Independence Day from Moscow! We arrived safely; no bags lost, no injuries, and no deportation! A good trip by any standards – so far. In order to stave off jetlag we skipped sleeping and explored Red Square, the of the city of home of world famous landmarks like the Kremlin.…

At last, we have returned to the land of mullets, track suits, and buttery food. It is good to be back. Currently, we four returning students are lounging in a room on the third floor of a hotel-like structure on the outskirts of Moscow.…

Seven of us are now sitting in Dulles Airport, having traveled from Boston earlier today.
…
Over the next few hours, our group will grow to 25 people (hopefully!), and at 4:50 pm we'll depart together for Moscow.  We'll arrive in Moscow at 11 am on Saturday, Aug.

Well there are only three days left before we leave on our trip. As you can see from Melissa and Joanne's blogs the three of us just returned from Castle Lake a few days ago. Thanks to the crew at Castle Lake, Melissa and I feel more prepared to handle our individual projects.…

Hi, this is Mike Loranty. Several colleagues and I are heading to Siberia too.  I'm a postdoctoral fellow at the Woods Hole Research Center working with Dr. Scott Goetz. Although not officially affiliated with the Polaris Project, we have become quite familiar with it through Max Holmes.…

Hi everyone! Only six more days until our departure!
As Melissa mentioned in her post, this past week the UNR Polaris crew was up at Castle Lake, Northern California training for our Siberian field work. Surprisingly, even though it's late June the lake was still frozen and we pitched our tents on the snow!…


Despite the excitement of commencement and reunion, the Carleton College website found room to publish a story I wrote about the Polaris Project. You can check it out here:
http://apps.carleton.edu/news/features/?story_id=644697…
Thanks to Chris Linder for the photo selection!
In other news, after the whirlwind of ending my time at Carleton and working as a class host for reunion, I can now focus my attention on preparing for the Polaris Project.

ACID WASH!  Hello from Northfield, MN, where Erin and I are washing scint vials like mad people.  We've been here since classes let out doing some wetland/prairie research and preparing for our trip to Russia.  Our research has been winding down as our preparations have wound up and we are very excited to be leaving soon
…
  <– Clearly we need to get out of the lab more.  

As I count down the days until we leave for the trip (as of today twelve), I am occupied with packing, reading and preparing. Last week I had the chance to meet with Principle Investigators Bill Sobczak and Karen Frey to discuss general plans for sampling this summer.…

Well, just finished packing all of my field gear and soon Emily and I will be on our way to Castle Lake, near Shasta CA, to do preparatory training for the field work we'll be doing in Siberia. While up at Castle, we not only get to test out all our new gear and perfect the skill of packing light while still managing not to freeze (it's the middle of June and we'll still be sleeping on snow pack!), but we'll also be mastering PPR, gill net fishing and processing, benthic sampling and more.…

hello! my name is kate. and im a new member to the polaris team this year! im a senior at western washington university majoring in environmental science with a minor in chemistry. i work at the institute for watershed studies at wwu– working a lot in the lab and field doing water quality analyses for our area's lakes and stream systems.…

Hej!
My name is Jorien Vonk, born & raised in Holland, but I just finished my PhD at Stockholm University a few weeks ago. I have been looking at terrestrial carbon (from thawing permafrost) from a marine point of view; what happens to this material once it arrives in the coastal ocean?…

As you may be able to tell from the year-round addition of blog entries, participation in the Polaris Project stretches far beyond our month-long stay in Siberia. Right now, many of the Polaris participants are finishing up their preparations for the trip.…

The Polaris Project got its start with a proposal submitted to the National Science Foundation (NSF) in March 2007.  We learned six months later that the proposal was funded, and on Jan. 1, 2008, the Polaris Project was officially underway.  Remarkably, we are now 2.5 years into the project, which was originally funded for three years. …

As the school year is winding down, I am getting increasingly excited about spending the summer in Siberia. My name is Lydia Russell-Roy and I am a senior at Carleton College majoring in Biology with a French and Francophone Studies concentration.…

Hello everyone my name is Claire and this is Boyd. Hi. Claire traveled to Siberia with the research team and Boyd went the summer before and both of us had awesome but unique experiences on the Kolyma. While Boyd looked at thermokarst lake drainage using a dendroclimatological model, Claire has coupled satellite imagery and river measurements of CDOM (Colored Dissolved Organic Matter) to map the distribution of CDOM along the Kolyma and its tributaries over the past 10 years.…

Hi everyone!
It is Cassandra and Blaize, we are writing to you from Clark University in Worcester, Massachusetts.  Cassandra and I got together to start to plan, prepare and talk about the trip. We thought we would share a little about ourselves:
I'm Cassandra, this is my first post for the Polaris Project, but I'm very, very excited to be going on this research trip. …

Hi everyone!
My name is Melissa Robbins and I'm a junior at the University of Nevada-Reno where I major in Environmental Science with minors in ecohydrology and wildlife. Most of my studies and the work I do focuses on freshwater management, ecology, and conservation.…

By now, I'm sure all the new students have heard rumors of the cunning behemoths otherwise known as Siberian mosquitoes. The rumors, I am sorry to confirm, are true. The moment it becomes warm, the Siberian mosquitoes and horseflies will emerge from hiding to feast on fresh, unsuspecting Polaris students.…

Hi everyone!
My name is Elliot Vaughan and I am a junior at Carleton College in Minnesota.  I am majoring in biology and also take a lot of Spanish classes (which will probably not be all that useful this summer).  The majority of my ecological field research has involved waking up very early to map and observe birds by myself  so I am excited to spend time doing more ecosystems-based research with a group.…

Hello everyone. My name is Max Wilbert, and I am the Western Washington student who will be working with Chris Linder on multimedia production this summer. I'm quite looking forward to the trip – the Arctic is the front lines of the climate catastrophe, and I want to learn as much as I can while I am there.…

My name is Andrew Crowley and I'm in my junior year at Holy Cross where I study Biology and Russian.  I have some experience working in the field thanks to a Freshwater Ecology course I took last fall.  Most of the work I did dealt with biological oxygen demand and primary production in rivers.…

My name is Emily Ulrich and I'm a sophomore majoring in Environmental Science at the University of Nevada, Reno. I'm very interested in limnology and hope to explore this during the project. So far, I don't have a specific project to discuss, but it is currently in progress.…

I guess I'll get the ball rolling for the new students.
My name is Sam Dunn, I am Junior at St. Olaf College majoring in Biology with a concentration in Environmental Studies.  I've previously done work in streams and wetlands with methane and nitrous oxide flux, but for my time in Siberia I am thinking about the functional diversity of tundra plants and how they affect the movement of Carbon et al.…

Hi everyone! Like the previous posts have said, we had a mini 2009 Polaris Project reunion at the State of the Arctic Conference in Miami last week. It was great to see everyone again, and attending this conference made me really excited to go back to Cherskiy this summer.…

…After a busy 4 days at the State of the Arctic (SoA) in Miami, I have found some time to distill the whirlwind of information and advice. SoA was my first science conference and I didn't exactly know what to expect.

Hello from…snowy Minnesota? Leaving Miami only to get delayed by snowstorms in Chicago was a bit of a depressing feeling. Clearly I am going to school in the half of the country.
The past week was GREAT. Attending the State of the Arctic conference was a perfect way to start off this field season.…

It was really great going to the State of the Arctic conference this past week, re-connecting with all the Polaris folks, presenting our research, and meeting some of the leaders in arctic climate change research.  We each had posters discussing our projects and got some great feedback from the other attendees. …

Hi from the State of the Arctic Conference! We're here schmoozing with the stars of arctic science and finding happiness in the world of science.
A typical day at the conference begins bleary-eyed at 8:30 with a breakfast of tropical fruit, croissants, and COFFEE while listening to presentations introducing the themes of the day:
Day One: An overview of the physical and social components of Arctic research
Day Two: Understanding and predicting changes in the Arctic system and their feedbacks to the global earth system
Day Three: Translating research into solutions
Later in the day we break up into parallel sessions for which we scramble from room to room trying to listen to as many of the different fascinating talks as possible.…

This past couple of days have been full of short presentations, plenary talks, and conversation. The Polaris Project is reuniting at the State of the Arctic Conference right now in Miami, FL and I'm definitely enjoying my time here.
I was able to present at a poster session regarding my research on boreal forest fire detection with radar and optical imagery and was provided some useful feedback.…

Though the 2010 Polaris Project field course in Siberia doesn't begin for over 3 months, preparations are ramping up quickly.  We have just finished selecting the 2010 undergraduate participants and are thrilled about the group, our largest yet.  Fourteen undergraduate students have been selected, 10 new and 4 returning students. …

The State of the Arctic Conference (http://soa.arcus.org) will be held next week in Miami (March 16-19, 2010).  This large conference is drawing Arctic scientists from around the world.  Twenty-five scholarships were awarded to outstanding students to support their travel to the conference.  …

New applications are rolling in for the summer 2010 field course. I have nothing in particular to add other than that we continue to draw some of the brightest and most interesting students from a great range of academic institutions. It's an honor to see the applications arrive.…

Yet more new science stories. We are rolling them out as they are finished. Look at the stream story and the permafrost story. (Oh and the science… page has had a small makeover too)

Check out the new Science Stories… on the bug project and the survey project. Both are fanstistic ways of learning about the science done on the field course told in the student's own words.

Andy Revkin continues his interesting coverage of the Arctic. Look at this postcard – similar in some ways to the coverage… he gave the Polaris Project during last summer's field course. The descriptions of the art and the artists in this post are inspiring.


After countless hours of work, Chris Linder has completed a 10-minute video that follows the Polaris Project during the 2009 field course.  The video can be accessed from the "Stories…" page of this website.  Chris did a fantastic job – I really think that the video will help others get a better understanding of the "Polaris Project Experience".

Yesterday the Clarkie students traveled in to Boston from Worcester to attend fellow Polaris Member Chris Linder's art exhibition. The exhibit, Exploring the Arctic Seafloor, displayed photos from an expedition to map what lies under the sea ice. Chris went with a team from WHOI to document the science and the landscape aboard the Swedish icebreaker Oden.…

Chris and I selected 100 of the 21,000 images he took and got some up under the Photos… page. We tried to focus on images that captured the feel of the trip and didn't include many of the specific images that documented the science that went on during the 2009 field course.

One of the objectives of the Polaris Project is to help get the story of the Arctic, climate change, and the Polaris Project to as broad an audience as possible.  The Polaris Project website is one means of doing so, as are public presentations by project faculty and students as well as media interviews.…

It has been a few weeks since the Polaris Project disbanded and I've had some time to reflect on my experience. I remember distinctly when Max Holmes invited me into his office to show me pictures of Cherskii and describe the Polaris Project.…

Check out this article in this week's issue of The Economist on Arctic permafrost thaw.
http://www.economist.com/sciencetechnology/displayStory.cfm?story_id=14119825…

Hello everyone. I hadn't written a blog entry in awhile, so now that I am home and rested I thought I should post an update on where I am and where I'm going with my project.
During our three weeks in Cherskiy, Valentin, Nickolay, and I collected over 130 soil samples from 14 different profile locations.…

I am, as Karen can attest to, a fairly indecisive person when it comes to my future. I worry a lot about whether I'm making the right choice, the what-ifs and alternative possibilities always seeming like they might be just as good.…

After the Polaris Project folks landed in Chicago we wandered through the airport leaving members off at different gates to make it to their final destinations. The Seattle folks got a little extra time together with a two and a half hour delay on top of a planned four hour layover.…

Polaris Project: Back in the USA!…

Boarding the plane to Chicago. 11 hours to go… /ab #fb…

Off to the Moscow airport and on our final legs of our trip home to the US. We all leave a piece of our heart behind in Russia. /kf #fb…

We have arrived in Moscow! The neverending day as we travel westward. 3 breakfasts before noon already! http://twitpic.com/c04ez /kf #fb…

2 time zones down, 17 to go! We're in and out of Yakutsk in a flash, already waiting for our flight to Moscow. /kf #fb…

The Polaris Project will leave Cherskiy in a few hours. We are packing and cleaning the barge. Lots of mixed feelings. /ab #fb…

Our time on the barge is getting closer to an end and I thought I would try to express some of the little things that characterize our home.  The first thing is the breeze.  The breeze on your face feels great on a warm day clears the air of any pesky mosquitoes. …

Today there is excitement among our group for many reasons. We are still riding the high from our unbelievable day trip to the tundra.
Yesterday morning, after a brief breakfast, we strapped on the life vests and headed north along the Kolyma River.…

A story about the Polaris Project has just been posted to Andy Revkin's Dot Earth blog at the New York Times.  I think it is safe to say that Revkin is generally considered to be the top science journalist in the US, and of course the New York Times has a vast readership, so we're really excited about this!  …

An article about the Polaris Project was just published in Field Notes, the National Science Foundation's Arctic logistics contractor Polar Field Services.  To view the article, click here….

Today, we finally headed off to further north then even Cherskiy. We've been trying to get out there for a few days, but the weather had been bad. Today dawned bright and beautiful, so after a quick breakfast we packed into four small boats and headed off to the Kolyma estuary.…

The Northeast Science Station is bustling with science as the student projects are well under way. We are using this to introduce a new section of the website focusing on the science… done on the Polaris Project.  The students are now into daily routines of sampling trips to locations near and far. 

Today the group finally got to adventure into the past – the Pleistocene to be specific! After a hearty lunch of moose stew, we embarked in an armada of boats and traveled by river to Pleistocene Park. After hearing and reading so much about this incredible experiment, this was a much anticipated trip for everyone.…

To appease all the fast-paced, twitter-minded, brevity-seeking, economical folks out there, this blog post will be an exercise in the ultimate 21st century succinctness. The last week will be summarized in the following bullet points:

.

Sudeep's barrel project allowed us to get intimate with a thermokarst lake…
…and eaten alive by mosquitoes
…the lake also broke both of Travis' Chaco sandals
…and also broke Max's immune system
We finally experienced the Russian tradition of the 'banya' (the barge is equipped with a wood-burning sauna/hot water heater/branding iron)

…
.

Due to an unfortunate turn of events, I was unable to return to Siberia this year but have been an avid follower of the blog and am happy to see this year's group is having an amazing time! It seems many projects have taken off and it's exciting to read new hypotheses and use my past experience to ponder how the questions will be answered.…

Embarking on this trip, all of us students knew we were soon to design some kind of research project.  Most of us were thinking about projects aimed at terrestrial, lake or stream systems.  I wanted to try something different, though. I wanted to find some way to talk locals. …

…Watching the Panteleikha River fill with fog was one of the finest things I've seen.

"I've got some good news: we're going to Duvannyi Yar tomorrow!" That's how John informed us of our imminent departure for one of the most famous sites we visit on this trip. None of us knew quite what we would find.…


We have some time to do limited lab work (and even a semi-mobile internet connection) while we are en route to Cherskiy. Here is our current position.… Chris Linder works on photos and Sudeep Chandra does some water quality analysis for lakes sampled at Duvannyi Yar.

Still steaming back to Cherskiy – students are pensive and trying to absorb their experience walking through the Pleistocene. /ab #fb…

Heading back Cherskiy from Duvannyi Yar. We did some good science, got loads of data, and found mammoth bones. More to follow. /js #fb…

We have arrived at Duvannyi Yar – a site few scientists have seen. The permafrost exposure with megafaunal remains is spectacular. /ab #fb…

…
A lot has happened since last time I blogged. As a group we have started to narrow down our research topics and have formed small 'teams' of specific topics. Since my research topic is looking at the variation in water chemistry of the whole Kolyma watershed (from the source water all the way to the ocean) I am a combination of many of the teams.

Hi everyone. A lot of what I've been doing related to the permafrost soil has been the same (digging profiles and processing samples), but I'd like to quickly recount how I built my first warming fire in the Siberian Arctic- Bear Grylls style.…

Three things:
1. We've added some pictures to the student blog posts again. Here, here, and here for example.
2. Max Holmes…, the director of the project who is sadly stayed behind in the USA this year, is diligently moderating comments that folks send in about the blog posts.

…
I woke up this morning to Erin standing shivering in our room, "It's so freaking cold."  Five minutes later we stared out the window as snow swirled by (in sizeable chunks).  We immediately thought of our other two roommates who had woken up this morning to go out in the field to do field work. 

It's snowing in Cherskiy! /kf #fb…

Some of asked us how our communiques are getting out from our remote position. The answer is that we are using a satellite-based Internet antenna. We point it south and can beam messages off. It's remarkable really.
…
With that and a spotty connection at the station we are enjoying much better communication this year.

I'm the resident student geographer on the barge, so my background and project are a little different than the majority of the ecologists here at the Northeast Science Station. Water is a huge part of the Arctic and the landscape is covered with streams, rivers, lakes and ponds.…

When I started this post it had been a while since anybody wrote. Then I got distracted and things changed. But I guess this is still relevant, so here's what I have to say. It's been a very busy few days.…

The plague of the Hebrews has struck the barge. Ok, I may be exaggerating a little bit. Not quite a biblical plague, but a mere cold/flu outbreak has reached the team here. Several PI's and students have come down with some unpleasant symptoms but luckily for the rest of the group (and unluckily for us) we have been quarantined off in the sleeping quarters of the new lab to prevent the whole barge from going down (no pun intended!).…

Most of the Polaris Project participants have probably heard me say how seeing the airplane that we take from Yakutsk to Cherskiy immediately separates the optimists from the pessimists.  A pessimist would look at the age and condition of the plane and question whether it could possibly complete another flight. …

Hi, all! While sitting in one of the buildings upstairs waiting for Chris to take an interview (I'm not sure about grammar here and further) from me, I've decided to blog a little.
So, since we've arrived to Cherskiy almost a week passed.…

Hello everyone. Over the last few days all of the students have selected and initiated our projects examining different aspects of the ecosystem around Cherskiy. Nickolay and I are working with Valentine and Sudeep to profile the soil in the Shuchi Lake watershed and examine how the soil's composition affects the quality of the water entering the lake.…

Hello everyone. The past few days have been really busy here at the Northeast Science Station. The past couple days have been spent moving into and preparing the new lab. The lab is absolutely gorgeous. When you walk into the door, there is a cozy round center room with a wood stove, reminiscent of a ski lodge, surrounded by side rooms containing labs, storage areas, offices, and even a suite of bedrooms and full bathroom.…

…
Yesterday, Blaize, Max and Kayla sampled for macroinvertebrates at Shuchi or Pike Lake.  Max got an immediate boot full of water as soon as we got down to the lake and was a little bit grumpy the rest of the time. 

…
Today was a good day. A day of feasting, you might say. A day of surprises for sure. After many fiber-free days the Gods have smiled upon us and sent an unexpected gift: apples and oranges. They must have heard Erin's offer of $10 for an apple and mercifully granted her one for free!

Yesterday we were given a tour of the new laboratory facilities here at the station (and I am in fact blogging from there right now). This is a significant event for the Zimov's and for us and for the scientific community in general.…

We have made some changes to the site (amazing given our remote location – the BGAN satellite internet is working well). First see information on the 2009 students if you want to place a face with a name. Also, the team… page is new to better accomodate our growing Polaris family.

Once upon a time in Cherskii, Siberia, a group of ambitious ecology students attempted to better understand the remote and beautiful landscape they had the privilege to visit. Little did they know, there was a predator here long before they arrived.…

Last time I wrote, I was preparing to depart.  Now, more than a week later, we've not only arrived at our destination, but have also spent two full days becoming acquainted with the station.  Because others have written in the meantime, I shall focus on the latter—on the most recent activities here in Cherskiy, both on and off the barge.
 …

We are updating the student and faculty blog posts with new pitcures after many email pleas (read 'demands') from some of our readers.  Chris Linder is supplying some pictures on the fly even as he works on developing science stories and doing interviews all the members of the Polaris Project.…

After 5 days of traveling we've finally reached our home. We took a small propeller plane to Cherskiy, which was a new sort of traveling experience for us – we piled our luggage in the front and secured it with nets.…

We've finally made it to the Northeast Science Station in Cherskiy. It's 12:30 in the morning and the sun is still up. The landscape here is more amazing than I could have imagined. During the plane ride, I was able to look out my window onto a landscape unlike anything I've ever seen before.…

We made it! We made it! We made it! The Polaris Project has finally arrived in Cherskiy and we're on the barge! /kf #fb…

Yesterday, we attended the Siberian Children's Art Exhibit in Yakutsk. We were lucky enough to see cultural dances performed be Yakutian children. They were adorable and eager to interact and pose for pictures. The artwork was amazing coming from art students as young as 8.…

Hello Moose (donuts?)!
And we're off to Cherskii. So far we've been exposed to quite a variety of food. Yesterday, in downtown Yakutsk, we solicited a delicious cafeteria that gave us a chance to try liver with mayo, spiced carrots with mushrooms, fried bread-pocketed meatballs, flaccid french-fries, chicken kabobs, raw salmon, and of course, meat donuts.…

The funny part about traveling as large group is that we are one dominating force in the airport. Overall things are going quite smoothly and we made it through the double security points (one for the small airport and one before check in), have checked in for our flight and are all excited to go to the NE Science Station in Cherskiy.…

July 5th was a very unique and interesting day in Yakutsk. We attended the opening of a new exhibit at the Yakutsk Art Museum, an exhibit of the art of Siberian schoolchildren, mostly from Zhigansk, that Max Holmes and Kate Bulygina have put together.…

Great article in today's Reno Gazette-Journal featuring our very own Sudeep Chandra & Joanne Heslop! http://tiny.cc/uST3h…

In the Yakutsk airport, waiting to board our turboprop to Cherskiy!…

From a coffee shop in the city center of Yakutsk. Students looking at furs and maps with Wild Bill Sobczak. Last moment of peace. /js…

Hello Everyone!
We're well on our way to Cherskiy, although not quite there yet. We're in Yakutsk now, finally somewhat rested and ready for the day. We haven't had the chance to really do any science yet and only briefly discussed what sort of work we'll be doing in Cherskiy, but one thing that I've enjoyed is just looking out the window from our various planes.…

After a long few days of flying, sleeping, eating and getting to know the interesting people that encompass the Polaris group, I have found a few moments to reflect on my trip so far. My travels started in Boston, in which we experienced a delay in our flight due to a thunder storm.…

Greetings from Yakutsk! We arrived here around 5:00 AM local time and are staying in a hotel next to the airport. During the past two days, those of us from the West Coast have flown on four planes across seventeen time zones.…

We're here! Yakutsk is our new home for the next 48 hrs (largest city in the world on continuous permafrost). Wx report: 71F & rain. /kf #fb…

On our next two flights, we will hopefully see 4 of the 6 largest arctic rivers: Ob', Yenisey, Lena & Kolyma. Science begins! /kf #fb…

We're on the ground in Novosibirsk and have already set our watches ahead 12 hours since Chicago. /kf #fb…

In the previous post, Sudeep Chandra says that he hopes they'll be able to post additional updates from Yakutsk before leaving for "the Arctic".  This raises the question:  Where is the Arctic?  What do you think?…

We arrived safely in Moscow yesterday.  The students and faculty look like they have rested well from the journey here and out trip to Red Square.  It is exciting to see this place through the eyes of our students.  The food at our hotel was well… Russian fare but made by an Uzbek chef that remembered us from last year.…

Good night in Moscow and a delicious breakfast of porridge. We're packing back up for our flight to Yakutsk! /kf #fb…

As I write this while sitting in Woods Hole, Massachusetts, at 8:20 pm Eastern time, I'm hoping that all members of the expedition team are now sleeping soundly in the hotel in Moscow.  However, given the 11 hour flight they have just endured, the 8 hour time change, and the associated jet-lag, I suspect that some are tossing and turning, perhaps thinking about the next leg of the adventure (overnight flight tomorrow to Yakutsk, another 6 time zones to the East).  …

After a gripping round of icebreakers, the students–and professors– from St Olaf, Carleton, UNR, and Western Washington are anxiously awaiting their departure.  Bitting our nails, missing our parental figures, and frantically trying to complete required readings, we are ready to get on the plane!…

Hello, friends. Clarkies here just waiting for our delayed flight.

See everyone in Chicago!…

As Andy Bunn mentioned, on June 30 an article about the Polaris Project was published in EOS, the weekly publication of the American Geophysical Union (AGU). You can view the article here….
AGU is one of the world's largest scientific societies, and all 50,000+ members receive EOS each week.  

Well, after months of planning and anticipation, the Polaris Project expedition to Siberia begins today. Congratulations to everyone for all of the work that has gotten us confidently to this point.  I greatly regret that I won't be traveling with the group this year, though my regret is tempered by the fact that I'll instead by spending my time with my daughter Sophie Jane (who is 8 days old today!) and family.…

Eos (subscription required) is a weekly publication of the American Geophysical Union…. There is a nice article in yesterday's issue describing the Polaris Project trip from last year and what we are up to this year. Eos reaches more than 50,000 scientists every week and will raise the profile of the project considerably.

Before I begin my blog, I'd like to warn you all that I have no prior experience with blogs whatsoever.  What does that mean, you may ask?  Well, that means that I may end up writing about very non-bloggish things.  For example, in a hypothetical blog reading context, I would assume readers would like some idea as to their writer. …

Thanks Andy for that great introduction. I'm very excited to join the team. I thought I would take this opportunity to introduce myself and talk about my role on the expedition.
I am a science/nature photographer and researcher. I work part-time for the Woods Hole Oceanographic Institution… in the Department of Physical Oceanography and the rest of the time as a freelance photographer.

All 4 of us here at Clark are getting very excited to get to Cherskiy! We recently made a trip down to visit Max Holmes and Kate Bulygina in Woods Hole, Massachusetts where we got a tour of the research center and got to ask questions about the upcoming trip!…

The distance between my home in Bellingham, WA and the Northeast Science Station in Cherskiy… is about 3,000 miles. That's a long way but astute readers will notice that the field course participants end up traveling a long, long way to get to Cherskiy.

All the new students have blog accts. Adding 11 new folks made me realize that this will be a different trip. Last year we had only 7! #fb…

and have met with some success! #fb…

Still trying to integrate all the web 2.0 silliness – blog, twitter, and facebook #fb…

I recently traveled back home to Bangkok, Thailand to visit family and thought this would be a great opportunity to share my research interests, experiences in Siberia, and thoughts on arctic science with the international community in Bangkok. I gave two presentations, one to the entire high school discussing the importance of arctic science in the realm of climate change and then I held a second more specialized seminar/lecture on my specific research topic in Cherskiy.…

An extraordinary new team member will be joining the Polaris Project field course this summer. Chris Linder… is an award winning photographer and scientist who has traveled all over the world documenting scientific fieldwork. Chris has worked in Siberia before, traveling with Max Holmes and Kate Bulygina to the Far East a few winters back.

Go ahead. Last year we had a Polaris Project bet… going to see who could guess the minimum sea ice extent in 2008.  Here were our guesses:
Here's what 2008 really looked like:
Holly  won the pool and got the glory and acclaim that came with it (that was the only prize).

I had the opportunity yesterday to give three class presentations at the junior high and high school I attended in my hometown of Wilbur, Washington.  I spoke with a wide range of students, from the 7th grade science class to the high school chemistry class. …

We are wrapping up the Polaris Project at the Nobel Peace Prize Forum…. It's been a great experience for our team. We've had good meetings to plan logistics for the 2009 summer course in Cherskiy. We've had multiple chances to present our research to some of the 1000 participants at the forum – we all presented something.

The American PI's for the project are here in Northfield, MN for the Nobel Peace Forum.  It is great to see everyone and begin discussions on our plans for Russia this year.   The forum schedule looks pretty exciting and I am looking forward to hearing different topics related to climate change.…

The Polaris Project PIs are in Northfield, MN at the 21st Annual Nobel Peace Prize Forum.… The forum this year honors the scientists from the IPCC who won the Peace Prize in 2007. We're being kept busy. The PIs are taking part in a panel discussion about climate change in the Arctic.

We have just completed the selection of students for the 2009 Polaris Project field course.  It was a grueling process because we received applications from many more exceptional students than we could accept, but we're thrilled with the outcome.  The new students are:
Travis Drake and Moira Hough:  Carleton College
Blaize Denfeld and Claire Griffin: Clark University
Brian Kantor and Erin Seybold: St.…

A four-part NOVA special "On Thin Ice in the Bering Sea" has just been released, featuring scientists discussing their climate change research in the northern Bering Sea (including some brief highlights of my own work).  The series also focuses on the impacts of recent climate change and sea ice decline on indigenous communities in the region. …

Boyd and Kate… will be giving a talk at Clark University about their experiences last summer as part of our student outreach efforts.

Potential students (and their parents) are looking over the website as the application deadline draws near. We added some new photos – especially to the estuary album – and brought in some more information about the 2008 field course. Also, we've added some information about the 2008 students to the team… page.

We had a good meeting in SF. Great to have all the PIs together and great to have some of the students present a sliver of their science. All the PIs have a list of things to work on as we get ready for the 2009 class.…

Yesterday (Wednesday the 17th) we presented our poster titled "Biogeochemical characteristics of Siberia's Kolyma watershed in relation to climate change and permafrost degradation" at the AGU conference.  We spoke to the head coordinator of the International Polar Year for education and outreach. …

Today, Tyler and I presented our poster at the AGU Conference, the most prominent earth science conference in the world, in San Francisco.  Our poster was located in the biogeosciences section and was titled 'Using Dendrochronology and Remote Sensing to Assess Drainage Rates of Pan-Arctic Lakes.'
It was a great experience and we received a lot of support, interest, questions, and feedback about our poster and research throughout the morning from several faculty and scientists from across the country. …

Most of the PIs and at least four of the students from the 2008 field class are meeting this week at the American Geophysical Union's Fall Meeting…. There are some 16,000 scientists attending this year and some of the highlights from the meeting will be webcast.

There is a new interface to the photo gallery. The site also has a more consistent look-and-feel. Thanks to Nikki D'Amico… from WWU who worked on it as part of her web design portfolio. Max is going through all the pictures from the summer 2008 field class and we'll be populating the new gallery with images and video very soon.

Here… is a nice article on the Summer 2008 field class in the Worcester paper. Good job Matt, Kate, Boyd, Bill, and Karen – nice article!

It is getting to the point where students at the various colleges and universities are looking at the website and contemplating applying to the field course and spending part of the summer in Siberia. As the reluctant web guy on the team…, I can tell you that we are going to roll out some new features and content on the site within the next few weeks. 

A few days ago, Tyler and I submitted an abstract to hopefully present at the AGU Conference in San Francisco in December.  With the help of Andy, Max, and Karen – we sent it in!  Thank you for the feedback and input!!…

The Polaris Project website was down for a bit shortly after our return to the US. The site was hacked and being used for some nefarious purpose.  We are back online but lost some of our content – Max's heartwarming summary post from the Moscow cafe was among the causalities.…

We're all currently sitting in an cafe in Moscow, reflecting on the past 3+ weeks of the Polaris Project and getting excited about the fact that we're heading home tomorrow. Several of us were talking yesterday evening about how difficult it will be to summarize the experience to our families and friends when we get home.…

July 22, 2008
Upon return from a truly spectacular trip up North to the tundra, we're back in Cherksiy and have spent the last few days in the labs analyzing and sifting through the countless water samples, tree rings, soil layers, organic matter, and gases collected since our expedition here began.…

7/21/2008
Yesterday afternoon, the students and PIs were given the options to either embark on an adventure up north by boat for a few days, or to work on data in Cherskiy.  The majority of us chose to travel north with hopes of seeing arctic tundra, reindeer herding camps, and possibly the Arctic Ocean! …

July 18, 2008
Today we went on an excursion to Pleistocene Park, Sergei Zimov's largest experiment.  The park consists of roughly 40,000 acres of forest, shrubland, lakes, streams, and if Sergei has his way, grasslands.  At the park there is a cabin that houses two people that work at the park, various outbuildings to store equipment, and a personnel carrier that plays an integral role in Sergei's ultimate vision.…

July 17, 2008
Author: Sudeep Chandra
As you may have gathered from the other blogs, we have just returned from a multiday trip up the Kolyma, a river that flows into the Arctic Ocean. We hired a ship to move the barge on which we are living, teaching, and collecting samples. …

7/16/08
Today began by splitting into our study groups. The filled-in lake (which are called alas) group went back to Duvannyi Yar and found a large alas to take some measurements in. The permafrost group analyzed their data collected from Duvannyi Yar.…

July 14 2008
Author: Sudeep Chandra
We arrived at the Cherskiy Research station a few days ago.  Check out our location by typing in "Cherskiy Russia" on Google maps. The ride in an old Russian turbo prop plane went much better than I had imagined. …

July 14th 2008
Our boyant "hotel-like structure" is being pulled up the Kolyma, en route for Duvannyi Yar. Valentin was especially excited, since he is a scientist from the Permafrost Institute in Yakutsk. We were told stories of huge exposures of permafrost, slowly thawing into the river, revealing mammoth, horse and bison bones buried for thousands of years.…

July 14, 2008
Day three on the barge, and we are currently in the middle of the Kolyma river. The barge is being pulled along south so we can experience the range of environments along the river, and eventually bear witness to dynamic changes in permafrost when we reach Duvannyi Yar.…

7/13/2008
When we woke up this morning we were slowly moving south along the Kolyma River.  Our destination is a two-day trip to Duvanniy Yar, a place were there are large permafrost exposures.  This morning we were confined to the barge as we moved upstream. …

July 12,  2008 Waking up early to help Sudeep organize his chlorophyll data, Kate and Boyd were busy analyzing and differentiating the data based on date and lake samples in the hopes of creating a baseline for samples taken this year as a part of the Polaris Project.…

There are a few new pictures… on the site. We are trying to get them up as fast as the connection here allows.
-Andy Bunn, WWU

This morning began with fresh minds, fresh rolls (with jelly!) and a talk given by Katey Walter about her research on methane emissions from nearby lakes.  These emissions have been increasing recently due to thawing permafrost.  We located some of these lakes on  a map, and then headed out for a tour of the surrounding area including these very lakes!  …

July 10th
After an early morning wake up (4:30 am) and breakfast on the way to the airport, we left Yakutsk in a small prop airplane.  While there had been quite a bit of disagreement over Cherskii's time zone and the duration of the flight, we were all very excited to finally get to our destination.…

July 9, 2008 (We were unable to post this due to disabled internet connection in Cherskiy)
Waking up fairly early to a delicious breakfast in our hotel (thank you Katey and others), we began our day with a quick trip to a local internet cafe to check our emails and to see if we could connect with the outside world.…

Hey team,
Holly here. I just wanted to let everyone know that I'm still alive and I made it back ok…just ten pounds lighter (new Russian dieting technique?). Turns out that food poisoning was likely (I think it was that soup that Katie and I both ate in the airport…but she only had a cup).…

Greeting from eastern Siberia.  My name is Sudeep Chandra, one of the principal investigators on the Polaris Project and an assistant professor at the University of Nevada- Reno.
Our trip to date has been filled with learning experiences for all involved.…

We are now several days into our trip and we'll finally reach Cherskiy, our final destination, tomorrow (if all goes as planned).  Things have gone mostly smoothly so far, with one notable exception.  One of the undergraduate students had a health issue (sinus infection) that was quite severe when we were in Moscow, and after several agonizing hours of discussion we decided that we couldn't take the chance of her condition worsening as we headed to our remote field site in the Siberian Arctic. …

We arrived in Yakutsk around 10 am yesterday due to a plane delay in Moscow.  While the flight was technically a "red-eye", it never was dark during its 6 hour duration.  In order to retrieve our baggage, a ticket had to be shown for each bag (a system drastically different from the United States). …

July 7th, 2008
From the Moscow airport
We have been traveling for a long time now and are waiting for, in some cases, our third red-eye in four days, as others have already mentioned.  We have used this time to get to know each other and to begin what will be an ongoing conversation about Arctic science. …

We arrived into Moscow early around 10:00 a.m. planning on spending several hours going through customs and ended up passing right through. Arriving at our 'hotel' nicknamed the Green Circle Hilton which was really a dormitory resembling a prison/hospital. There was a dog in the lobby.…

We arrived in Moscow at dawn on July six. We made it through customs in a fairly short amount of time with all our scientific gear intact.
…

Everybody was feeling pretty ragged as Kate Bulygina met the two minibuses she had hired and we loaded all the gear into one and all the people into the other.

Tyler, Holly and I finished the first of our three overnight flights after landing at JFK at 7:00AM from Seattle. We met up with the St. Olaf crew fresh off field work in California and are trying get some rest before meeting the rest of the crew at the gate to catch our flight to Moscow.…

So I think I'm pretty packed and ready! More than anything I'm excited to finally begin this experience! It finally hit me that I'm GOING TO SIBERIA tomorrow morning!  How many people get to say that? Packing was somewhat difficult, it being hard to pack 'light' for a 3-week trip into western Siberia but I think I'm just under the limit! …

So the past few days have been spent getting together all of the unfamiliar equipment I've acquired this summer and trying to fit them into one duffel bag. Unsuccessfully. But what has been really enjoyable has been responding to the question "What are you up to this summer?" I think that going to Siberia is the last response anyone I've spoken to has expected to hear.…

After several months of work, on March 16, 2007, we submitted our Polaris Project proposal to the National Science Foundation's International Polar Year grant competition.  Six months later we learned that our proposal was successful – the project would actually happen. …

Max and Russian student Anya Suslova did an interview on public radio about the Student Partners Project. They give a great interview and talk about the Polaris Project a bit at the end. Listen here…. You'll learn something about rivers in the Arctic and something about how the Polaris Project got started.

Betting on future climate has become a phenomenon on lately. See here and here, and here…. (Those are all blogs I like by the way). In a related vein, there is also a pool for bets on what the minimum arctic sea ice extent will be in 2008.

As part of another NSF funded project, I'm in Russia for ~3 weeks with a group of four people.  Two have never been to Russia before, so in some ways it is a good test run to help identify some of the logistical challenges we'll face moving the Polaris Project group from the US to Moscow to Yakutsk to Cherskiy.  …

In addition to having research interests in impacts of permafrost thaw on land-ocean linkages of carbon and nutrients in Siberia, my research also investigates carbon dynamics in coastal and shelf environments in the Arctic. My most recent project seeks to determine impacts of sea ice variability and polynya formation on biological productivity and spring phytoplankton blooms in the northern Bering Sea.…

Who I Am
I am an aquatic an aquatic ecologist and biogeochemist interested in carbon and nutrient cycling between terrestrial and aquatic systems, the cryosphere and atmosphere.
I am also one of the organizers of the Polaris Project. I have worked in Cherskii since 2000, and have a passion for science in Russia, particularly when it involves methane and fire!…

I am a stream biogeochemist and ecologist who has studied the fate of terrestrial-derived organic matter and aquatic primary production in a variety of aquatic ecosystems spanning from small headwater streams to large estuaries. I have instructed courses in Freshwater Ecology, Ecosystem Ecology, and Environmental Biology at Holy Cross College annually since 2002.…

The Polaris Project is moving forward. The team is in the process of selecting the inaugural class for the field class… and we are going start blogging about our activities in earnest. The various team members are going to start making short posts that highlight their research and tell us something about who they are and what they do.

Every December a huge number of scientists gather in San Francisco for the fall meeting of the American Geophysical Union (AGU…). This year there were over 14,000 attendees, and the number grows every year. Though the meeting covers almost all aspects of earth and planetary science, climate change and polar regions were clearly dominant themes.

'Global warming' is all over the news these days, mainly because of changes that are happening far away or because of events we fear may happen some time in the future. But in the Arctic, big changes are happening now….

The Polaris Project will give undergraduate students the opportunity to witness the changing Arctic first-hand as they participate in a field course and research experience in northeastern Siberia (8 time zones east of Moscow!). After completing an on-campus course associated with the Polaris Project, a select group of undergraduate students will travel with project scientists to the Siberian Arctic.…

Well, somehow I didn't hide underneath the desk fast enough when Max… asked how we were going to get a Polaris Project web site up. I thought he was just asking me for things I thought should be on the site.